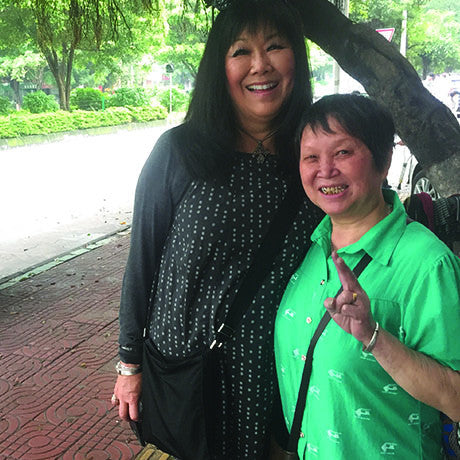 April 2016
It has been a long time since we had the chance to see our friends in China and Thailand.  This past April, Kathy (our CEO & Founder) and myself had the chance to catch up with our artisan partners, share with them, eat with them, and deepen relationships.
HANDS OF HOPE - CHINA
Many people in the US don't want anything that is "made in China"  The truth is that many things made in China are in fact cheaply made and the results of slave labor.  This project in China has been developing for over 20 years.  It's amazing to see how this group has grown and to see how this project is now being fully run by the local people.  Hands of Hope is a project that began initially as a way to help young girls leave Leprosy villages and be integrated into "normal" society.  After a while the project transformed as the Leprosy affected women began reaching out to orphans and the disabled.  Now in 2016 this project is fully run by the women and they welcome anybody in need, anybody who may be considered "the least of these". Throughout these past 20 years over 50 women have gone through this project and many have found success in life.  Starting their own families, working, and able to support their own families.  Here are a few of the faces of Hands of Hope (formerly Dorcas Design).
"Mary" - once Leprosy affected - now a expert sewer
"Auntie" - once leprosy affected - now a Master Quilter & Sample Maker
The women of Hands of Hope
Lily's son - He's a pure blessing from God to her and her husband.
Chun Mei - Bookkeeper / Sample Maker & Elli - HOH Manager & Coordinator
PLANT THAILAND
Thailand is known for the incredible creativity and abilities of it's people.  Every night in Chiangmai, Thailand there are streets and courtyards lined with these artisans trying to sell their items to the local people and the tourists from around the world.  Many of our friends in Chiangmai sell in the night market as well as the weekend walking streets. We have been partnering with many of these people for over 10 years.  Most all of them we met on the street and began our relationship through orders throughout the past decade.  When we sell their items a percentage of their sales goes towards local Free Methodist Church pastors who are looking to grow their underfunded church.  Our friend Pastor Joshua has recently began a ministry to the artisans we are working with and who help fund his monthly salary.  This past trip was such a joy as the Lord has continued to speak to our friends and has raised their interest in learning more about the Word of God and the sovereignty of His love.  Enjoy these photos of our friends in Chiangmai, Thailand.
Samorn - Sweet Gypsy : Jewelry Designer
Pong & Malee - Malee Handicrafts : Designers & Sewers
One project we support through the sale of Thai handicrafts is Zoe International
Zoe Intl. rescues and rehabilitates children rescued from Human Trafficking
 Learn more about their amazing work at: 
gozoe.org
May - Lanna Thai Silver : Silver Jewelry Designer & Kathy (HT CEO & Founder)
Win - Jewelry Designer